During 20 years as a Naval Aviator, including 13 years with the National Aeronautics and Space Administration (NASA), Captain Eugene A. Cernan left his mark on history with three historic missions in space as the Pilot of Gemini IX, the Lunar Module Pilot of Apollo X, and the Commander of Apollo XVII. After flying to the moon not once, but twice, he also holds the distinction of being the second American to walk in space and the last man to have left his footprints on the lunar surface.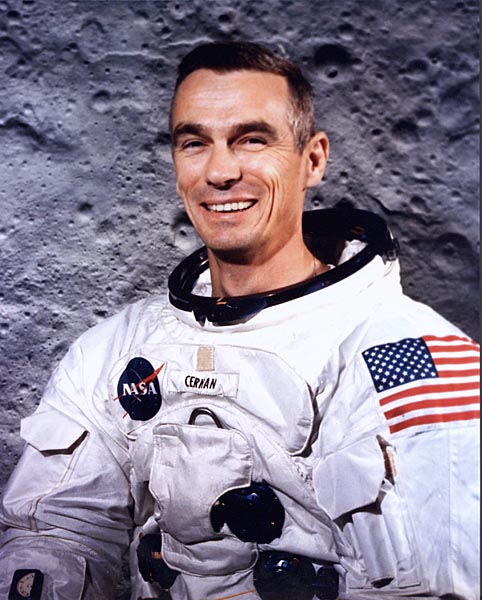 "Too many years have passed for me to still be the last man to have left his footprints on the Moon. I believe with all my heart that somewhere out there is a young boy or girl with indomitable will and courage who will lift that dubious distinction from my shoulders and take us back where we belong. Let us give that dream a chance."
Captain Eugene A. Cernan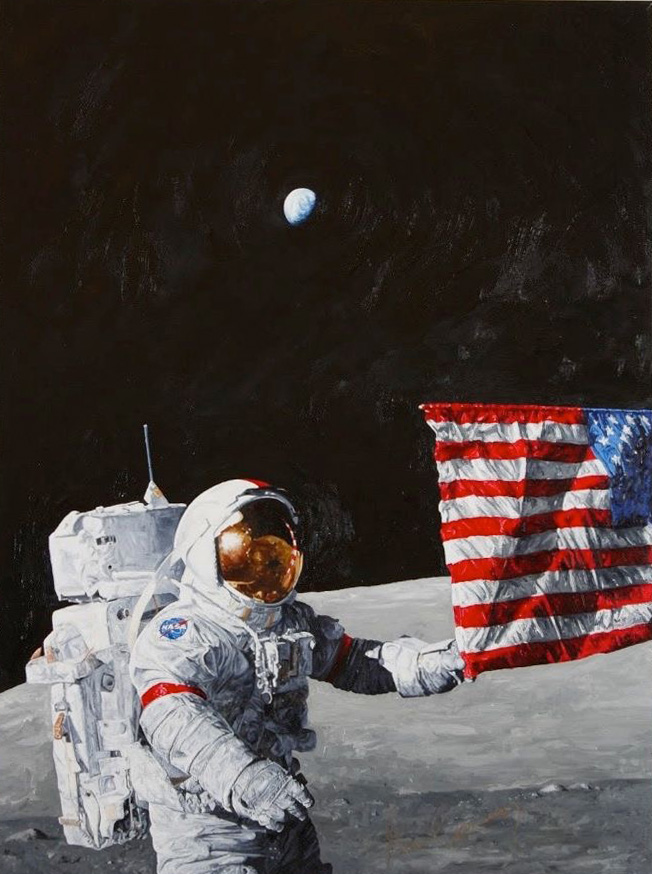 Chris Calle's beautiful painting of a Captain Cernan on the moon…
Captain Cernan received a Bachelor of Science degree in Electrical Engineering from Purdue University in 1956 and a Master of Science degree in Aeronautical Engineering from the United States Naval Post Graduate School in 1963. Among his numerous honors, the most significant are the Navy Distinguished Flying Cross, the Distinguished Service Medal with Star, the NASA Distinguished Service Medal, the FAI International Gold Medal for Space, induction into the U.S. Space Hall of Fame, enshrinement into the National Aviation Hall of Fame, Naval Aviation's Hall of Honor and the International Aerospace Hall of Fame. Captain Cernan was awarded NASA's first Ambassador of Exploration Award, the Federal Aviation Administration's prestigious Wright Brothers Master Pilot Award, and the 2007 Lindbergh Spirit Award presented only every five years. In December, 2007, The National Aeronautic Association presented Captain Cernan with one of the most prestigious aviation trophies in the world, the Wright Brothers Memorial Trophy, in Washington, DC. Last April, Captain Cernan was honored by receiving the 2008 Rotary National Award for Space Achievement, and he recently received the Federation Aeronautique Internationale (FAI) Gold Air Medal, one of the most important international awards, in the Fall of 2008.
The last words on the lunar service by the Last Man on the Moon.
Having a big dream: Capt. Cernan at San Diego Air & Space Museum, July 2007.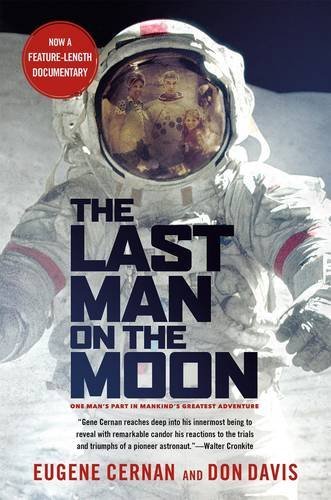 Captain Cernan has recently authored the book, "THE LAST MAN ON THE MOON."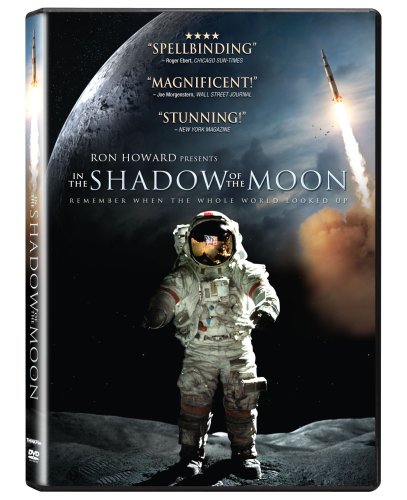 He is also featured in Ron Howard's new film, "In the Shadow of the Moon."