CHARLIE BROWN AND SNOOPY.
Snoopy came close to the moon 40 years ago today on Apollo 10
By Shelby G. Spires, The Huntsville Times

Read full article here.

The world famous beagle, canine astronaut, and mythic fighter pilot Snoopy is celebrating the 40th Anniversary today of Apollo 10 close pass by the moon.
Snoopy came within nine miles of the moon 40 years ago today. Not the legendary comic-strip beagle but a lunar lander named Snoopy carrying Apollo astronauts Tom Stafford and Gene Cernan.
NASA's association with Snoopy has been solid ever since. NASA still uses the "Silver Snoopy" pin as a reward for exceptional work at the space agency.
"Without a doubt it was extra special to my father," said Craig Schulz, son of legendary Peanuts creator Charles M. Schulz. "There were two highlights in his life he would speak of. One was his service in World War II, and the other was having NASA use his characters in outer space."
Following the January 1967 Apollo I fire that claimed the lives of astronauts Gus Grissom, Ed White and Roger Chaffee, "NASA wanted to find a way to come up with a mascot to enhance a safety program – like Smokey the Bear did for forest fires," Schulz said. "They approached my father and he was very excited about."
Apollo 10's lunar lander was named Snoopy and its command module dubbed Charlie Brown, the mission did not land on the lunar surface but tested the Marshall Space Flight Center-developed Saturn V's ability to place astronauts and the lunar lander on a course for the moon.
In May of 1969, just two months before the first man landed on the moon, Snoopy roared through space on NASA's Apollo 10 mission. The astronauts of Apollo 10 — Thomas P. Stafford, John W. Young, and Eugene A. Cernan — nicknamed their command and lunar modules Charlie Brown and Snoopy, respectively, and carried sketches of the duo aboard their space craft.
Stafford and Cernan piloted Snoopy within 50,000 feet of the lunar surface as they scouted the landing area for the next mission, Apollo 11, in which, of course, Neil Armstrong and Buzz Aldrin became the first humans to land on the Moon.
In addition to having come so close to the moon's surface, Snoopy is also known for mythically shooting down The Red Baron.
A more down to Earth visage for the beagle is the NASA Silver Snoopy Award, dubbed the "astronauts' personal award." It has been presented since 1968 as part of NASA's Space Flight Awareness program to non-military personnel for outstanding efforts that contribute to the success of human space flight missions.
Award winners receive a sterling silver Astronaut Snoopy lapel pin, which has been flown in space aboard a space shuttle, a certificate, and a letter of appreciation signed by NASA astronauts. Fewer than one-percent of the workforce receives this recognition annually, making it one of the most prized awards in the industry.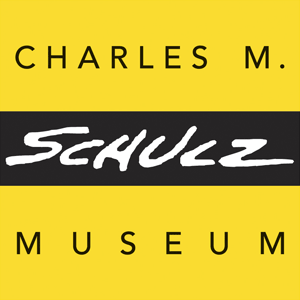 Snoopy Soars with NASA at Charles Schulz Museum
The Charles M. Schulz Museum in Santa Rosa, Calif., celebrated the 40th anniversary of the Apollo 10 mission with an exhibition highlighting the connection between NASA's pioneering astronauts and Peanuts' barnstorming beagle. (2009)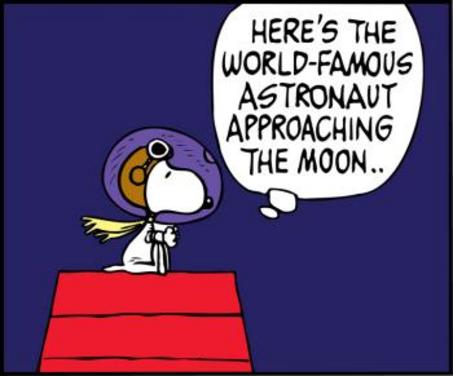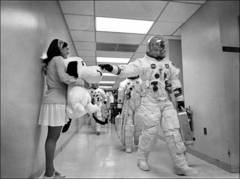 Headed for the launch pad, Apollo 10 commander Tom Stafford past the nose of a stuffed Snoopy held by Jamye Flowers, astronaut Gordon Coopers's secretary.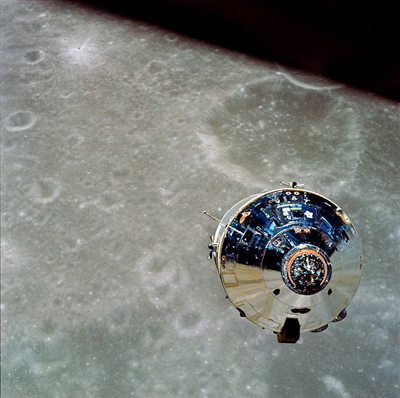 Apollo 10 Command Module, "Charlie Brown" above the Moon.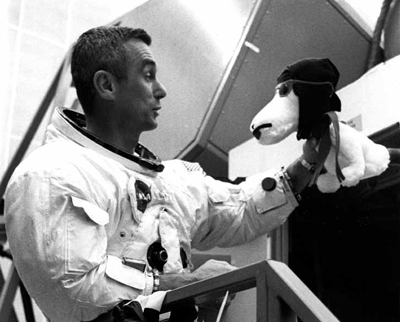 Captain Cernan and Snoopy (courtesy Charles M. Schulz Museum and Research Center).